What We're Eager to Explore at Pack Expo Las Vegas 2023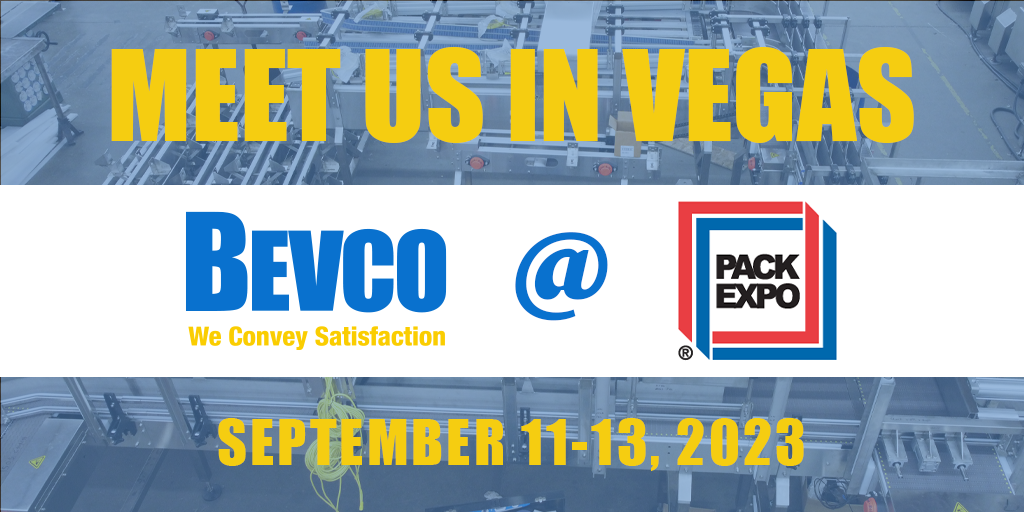 As a couple of us here at Bevco gear up to walk the bustling halls of Pack Expo Las Vegas 2023, our anticipation is palpable. This annual pilgrimage to Vegas (or Chicago - see you there next year!) isn't just an event; it's an invaluable opportunity for us to connect with industry leaders, explore the latest trends, and discover innovations that resonate with our mission and expertise. Here's a sneak peek at what has us eagerly looking forward to this year's event:
Pioneering Digitalization in Conveyor Systems
At Bevco, we're no strangers to the evolving landscape of conveyor systems. In this digital age, we're excited to dive deep into discussions around digitalization and automation, which are particularly relevant to our field. In particular, we're eager to explore how digital technologies are enhancing conveyor system performance, optimizing production lines, and improving maintenance processes.
Elevating Beverage Production with Innovative Technology
Bevco specializes in conveyance and equipment for the beverage industry. At Pack Expo, we're excited to gain insights into topics that directly impact our clients:
Food Safety: Our commitment to ensuring food safety in beverage production aligns with the industry's highest standards. We're looking forward to discovering cutting-edge solutions in this area.
Cleaning: Efficient and thorough cleaning processes are crucial in beverage production. We're excited to explore innovative cleaning technologies that maintain beverage integrity and safety.
Advancing Sustainable Packaging Solutions
Sustainability isn't just a buzzword; it's a guiding principle at Bevco that we're glad to see skyrocket in popularity throughout the packaging industry. Here's what we're excited about in this arena that we're sure to see at Pack Expo:
Sustainability in Beverage Packaging: Sustainability is a core concern for us and our clients. We're eager to learn how the beverage industry is reducing its environmental footprint through sustainable packaging solutions.
Designing Sustainable Packaging for the Future: We plan to uncover novel approaches to sustainable packaging design, especially as it relates to food and beverage.
Engaging Consumers in Recycling: Making recycling accessible to consumers is crucial for beverage packaging. We're excited to get involved in strategies that encourage participation.
Embracing Technology and Best Practices
As technology leaders in the conveyor and equipment industry, we're always on the lookout for innovations that enhance our offerings. Pack Expo offers a treasure trove of knowledge, which we'll be exploring to stay at the forefront of conveyor system technology. We're eager to hear all (and share some of our own insights) about the latest advancements that can elevate our solutions.
Navigating Industry Trends
At Bevco, we're committed to helping our clients stay ahead in the ever-evolving packaging landscape. Pack Expo's discussions on industry trends will be of great interest to us:
The State of the Packaging Industry: Understanding the latest trends and innovations in industries like food, beverage, cannabis, and other consumer goods is crucial for aligning our products and services with market demands.
Automation from an End-User Perspective: Hearing from end-users about their automation journey provides valuable insights that we can apply to our conveyor and equipment solutions.
Growth in Contract Packaging and Manufacturing: We'll be closely following discussions about the factors driving growth in this sector, as it can impact our clients' needs.

As Bevco prepares to participate in Pack Expo Las Vegas 2023, we can't help but get excited about everything that is in store for us and our partners, customers, and peers who will be attending. We eagerly anticipate sharing our experiences and insights from this event as we explore groundbreaking ideas and forge/nurture valuable connections within the packaging and processing industry, all with a focus on delivering top-notch conveyor and equipment solutions to our valued clients. Stay tuned for updates and takeaways from our journey at Pack Expo Las Vegas!
---
comments - 0