10 Innovative Beer Cans and Bottles in Canada and the US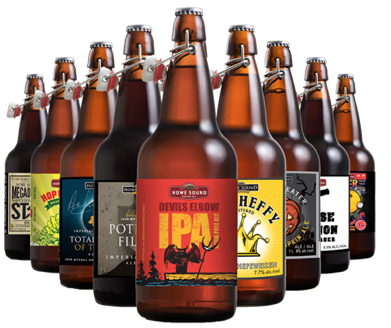 High growth in the craft beer segment leads to high competition for beer manufacturers – they not only have to come up with tasty beer products, but they also need to design eye-catching cans and bottles in order to grab consumers' attentions. We selected 10 innovative beer manufacturers, in Canada and the US, who not only make tasty craft beers, but also got "crafty" in their can and bottle designs.
1. Howe Sound Brewing | Squamish, BC
2. Sierra Nevada Brewing | Chico, CA
3. Amsterdam Brewery | Toronto, ON
4. Big Rock Brewery | Calgary, AB
5. Brasseurs du Monde | Saint-Hyacinthe, QC
This is a prototype design of their Porter de Glace beer.
6. Great Raft Brewing | Shreveport, LA
7. Bud Light | Anheuser-Busch
8. Natural Light | Anheuser-Busch
9. Griesedieck Brothers Brewery | St. Louis, MO
10. Samuel Adams | Boston, MO
Bevco Tips
Breweries constantly come up with all shapes and sizes of packages to appeal to different demographics of consumers.  These can lead to challenges  in productions, such as increased changeover time and production costs. It is important to ensure that your marketing and productions are in sync.  When purchasing conveyors and equipment for your canning and bottling lines, it is important to ask:
Are the conveyors modular?  Modular conveyors can easily be moved and re-arranged to suit your future expansion needs.
Does the equipment have changeover parts?  Changeover parts will lengthen your production downtime and are more expensive to maintain.
We designed our conveyors and equipment with your challenges and profitabilities in mind: all our conveyors are modular and none of our equipment has changeover parts.
---
Do you see any other innovative beer cans and bottles in the US and Canadian market?  Let us know by leaving us a comment!
---
comments - 0