Enhancing Efficiency with Tool-Less Quick Changeover for Your Mix Pack System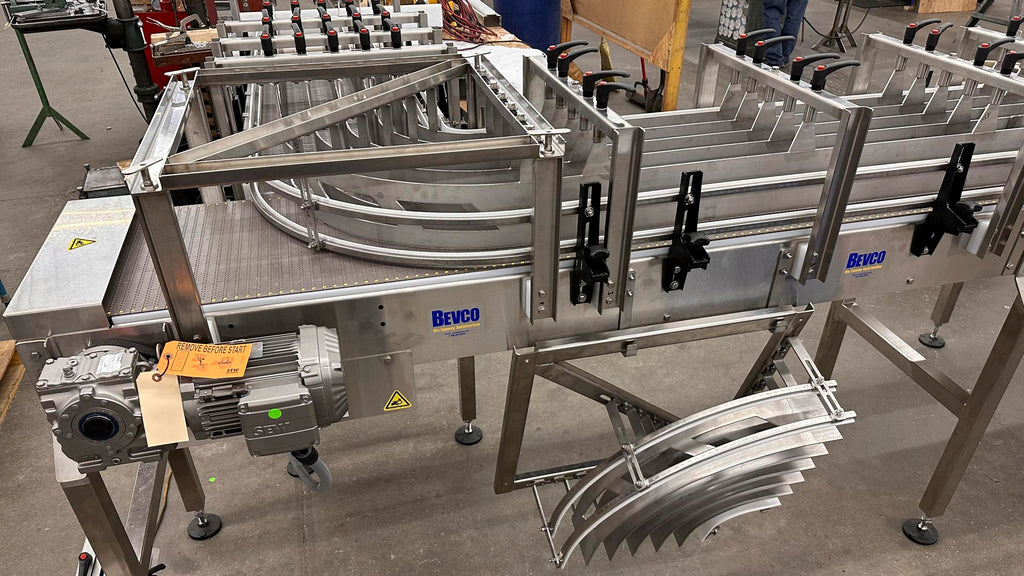 At Bevco, we are committed to continuously improving our products to meet the evolving needs of our customers. One of the key enhancements we've recently implemented is a simplified, tool-less quick changeover option for one of our more popular offerings, our Mix Pack (or Variety Pack) System. This new design streamlines the production process, making it easier and more efficient to switch between different can diameters without the need for measurements or specialized tools.

Seamless Transition with Overhead Center Rail Supports

Our tool-less quick changeover starts with the clever design of the overhead center rail supports. Slots incorporated into these supports enable operators to choose between two settings - one for sleek cans and the other for standard (211) cans. To make the change, operators simply slide the rails over from one end of the slot to the other. This eliminates the need for guesswork and ensures easily repeatable changeovers.



Simplified Curved Area Changeover

Changeover around curves can be notoriously challenging and time-consuming. To address this, we have created specialized change parts for the curved areas. When switching from standard cans to sleek cans, operators can quickly remove the lanes for standard cans and replace them with the sleek can lanes using the change part. This straightforward process minimizes downtime and maximizes productivity.

Adjustability and Customization at Your Fingertips

Flexibility is a hallmark of our Mix Pack System, and the tool-less changeover feature takes it to the next level. The black plastic crossblocks along the overhead cross tubes can be easily loosened to adjust the lane widths horizontally, accommodating cans of different sizes. Additionally, the lanes can be lifted up and out of the way, providing easy access for bulk container infeed into the cartoner or tray packer. To further enhance the tool-less experience, we supply "T handles" for the black plastic crossblocks and ratchet handles for quick adjustments without the need for wrenches or specialized tools.



Design Notes for Optimal Performance

Our dedication to continuous improvement extends to the finer details of our Mix Pack System. To reduce side flex in the lanes and ensure sturdiness, we utilize 1" diameter drop rods where possible. Additionally, we have addressed the issue of standard washers deforming under pressure by introducing 11-gauge stainless steel homemade washers for added durability and reliability.



Perfect Alignment with Welding Jig

The precise alignment of lanes to the drop rods is crucial for maintaining impeccable performance. To ensure consistency, we are developing a welding jig for our welders, making it easier to weld the triangular 3/16" stainless steel flags to the 1" drop rods with utmost accuracy every time.

Our tool-less quick changeover feature represents a significant advancement in our own mix pack system technology, allowing for seamless transitions between standard and sleek cans with minimal downtime. This upgrade not only improves efficiency but also enhances the overall user experience, empowering operators to adapt quickly to changing production requirements. With this new tool-less quick change option, we look forward to providing even greater value to our customers as they continue to respond to growing consumer demands and an ever-changing market.

If you need a solution for producing diversified mix pack products efficiently and with precision, Bevco can help make your concept a reality. Give us a call (1.800.663.0090) or email (info@bevco.net) today!
---
comments - 0