Bevco's Innovative Hot-Fill Line Solution for Cap Sterilization and Cooling Challenges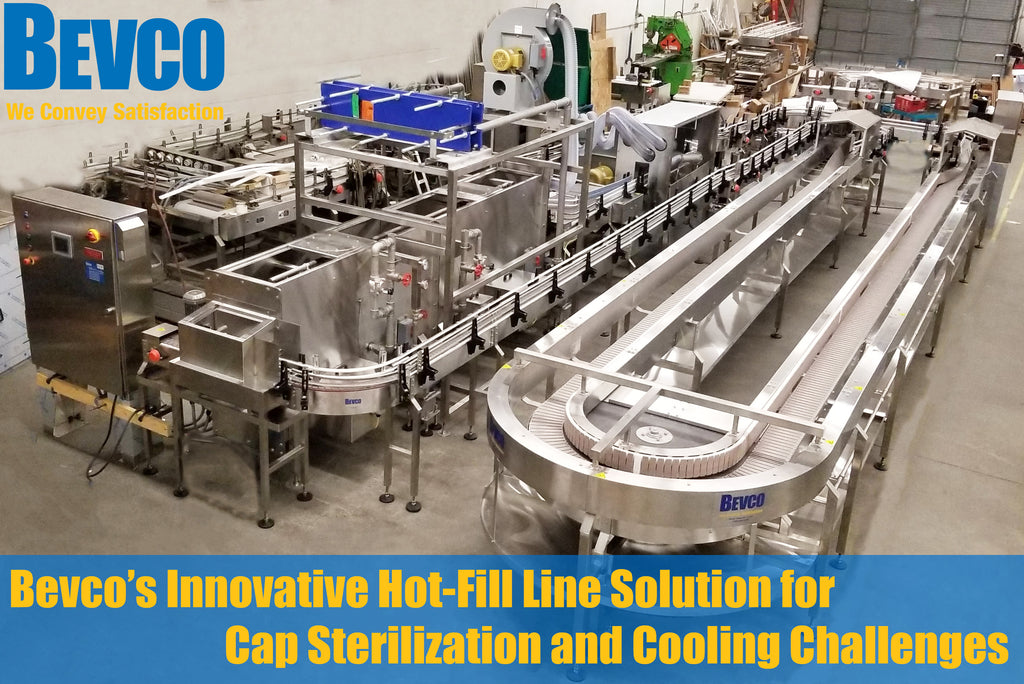 One of the most exciting aspects of manufacturing machinery for the packaging industry is working with clients from various food and beverage industries who reach out to us to provide solutions for unique packaging challenges. Over the years, Bevco has custom designed and manufactured a variety of packaging equipment types for our clients' hot-fill applications involving many different product types, including syrups, jams, sauces, dressings, etc.  Bevco's equipment on these projects has typically included cap sterilizers, cooling tunnels, blow-off tunnels, and custom conveyor systems.
In a recent project, Bevco was faced with a unique challenge of designing and manufacturing a number of specialized machines within a small production floor area.  Despite the limited floor space available, we were able to work closely with our client and our integration partner, DTM Massman LLC, to customize solutions within their budget for the following hot-fill line applications:
Rinse empty glass containers with ionized air to blow out dust particles from the inside of the containers at speeds up to 105 bottles per minute (Bevco M150 Ionized-Air Rinser)
Sterilize the inside of the containers' caps for 120 seconds (Bevco Zero-Pressure Product Inverter)
Cool down the hot liquid inside the containers from a starting temperature of 185°F to 135°F (Bevco Cooling Tunnel)
Blow moisture off the exterior surface of the containers after cooling to improve labeling performance (Bevco Blow-Off Tunnel)
Convey the containers between new and existing conveyors and equipment (Bevco Conveyor Systems)
Control their revitalized production line (Bevco Controls)
Custom Solution #1: ZPPI - Zero Pressure Product Inverter (Cap Sterilizer)
At Bevco, we've manufactured horizontal Cap Sterilizers that are entirely straight, have 90-degree curves, and have 180-degree curves, depending on the layout and space available at each facility.  For this project, there were two significant challenges we had to overcome:
We needed to design and build the longest cap sterilizing conveyor in our company's history. A horizontal length of 45 ft plus a 180-degree curve were required to accommodate 120 seconds of contact time.
The radius of the curve could only be 2 ft maximum, instead of our typical 4 ft radius.
Through the introduction of a dynamic-wheel, we were able to accommodate the significant length required for cap sterilization while overcoming friction build-up in the 180-degree curve.
Let's have a look at what happens to the containers as they travel along the ZPPI…
After containers are filled with hot liquid, they are turned onto their sides to sterilize the caps: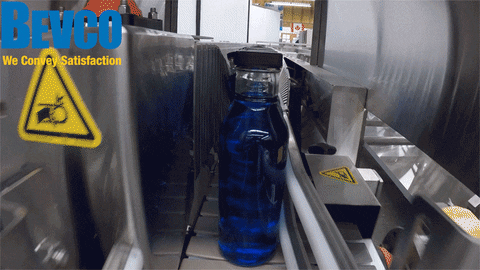 The containers travel along the cap sterilizing conveyor and go through a 180-degree curve to allow enough time for the sterilization process:
The containers are tipped back to right-side-up after the sterilization process has finished:
Check out our blog post Project Highlight: Cap Sterilizer-Cooling Tunnel-Combiners-Controls for more information about Bevco's ZPPI
To get a quote for a Bevco ZPPI, click here 
Custom Solution #2: Cooling Tunnel
The same problem with limited floor space applied to the Cooling Tunnel. There was not enough space to fit Bevco's smallest 4 ft x 12 ft Cooling Tunnel. To overcome this challenge, Bevco designed and built our smallest Cooling Tunnel since the company started out in 1980.  We were able to custom design a 1'-6" wide by 12'-0" long tunnel capable of meeting the product cooling specifications.  To reduce cooling times, to facilitate a smaller Cooling Tunnel and to significantly reduce water consumption, our design incorporated a Chiller, Heat Exchanger and Closed Loop System to recirculate and recycle the water inside of the Tunnel at a constant temperature of 45°F.   
<Custom Sized Mini Cooling Tunnel: 1'-6" wide' x 12'-0" long x 4'-8" tall>
To learn more about Bevco's Cooling Tunnel, check out our blog post: The Bevco Cooling Tunnel: A Cool Solution For A Hot-Filled Product 
To get a quote for Bevo's Cooling Tunnel, click here 
Custom Solution #3: Placement of the Heat Exchanger and Blower
For this project, the floor space constraints even had an impact on the peripheral components associated with the Cooling Tunnel.  Typically, the Heat Exchanger is placed on the floor in the vicinity of the Cooling Tunnel; however, in this case, Bevco came up with a solution to mount the 650 lb Heat Exchanger directly above the Cooling Tunnel utilizing a custom stainless steel support structure.  In addition, the structure had to support the blower for the outfeed Air Knife Blower.
<Custom support structure was built to address limited production floor space>
<Heat Exchanger and Air Knife Blower>
Custom Solution #4: Custom Conveyance and Integration
<Bevco's custom-designed packaging line>
Finally, the limited floor space also impacted the overall integration of the equipment and the conveyance between packaging machinery.  Bevco's custom conveyor system for this project incorporated the following features:
Integration of the new Bevco M150 Ionized-Air Rinser and infeed/outfeed conveyance between a Rotary Accumulation Table and the existing Filler.
Side transfer of new conveyors onto existing conveyors
Strategically positioned tight radii conveyor curves and transfers
Custom combiner integrated with Cooling Tunnel outfeed
<Layout of the project>
Custom Solution #5: Ionized-Air Rinser
Over the last 40 years, Bevco has become renowned in the industry for supplying hundreds of high quality, reliable Rinsers on packaging lines for many different foods and beverages.  Bevco's Rinsers are available in a variety of sizes to suit each individual application.  For this project, our customer was looking to use ionized air to remove loose particulate and dust from round glass bottles at a rate of up to 105 bpm.  Our solution was our M150 Ionized-Air Rinser with standard Bevco grippers (EPDM 35 duro).
To learn more about Bevco's Rinsers, check out our blog post: Who Likes Dirty Beer?
To get a quote for a Bevco Rinser, click here 
Bevco Has Nearly 40 Years of Expertise Providing Custom Packaging Solutions
Every project requires a different approach and a customized solution. With our nearly 40 years of industry expertise, you can trust Bevco to deliver innovative, high-quality solutions to meet your packaging needs. Contact us today to find out how we can convey satisfaction to you!
---
comments - 0