How To COPE with COVID-19 Outbreak For Breweries And Distilleries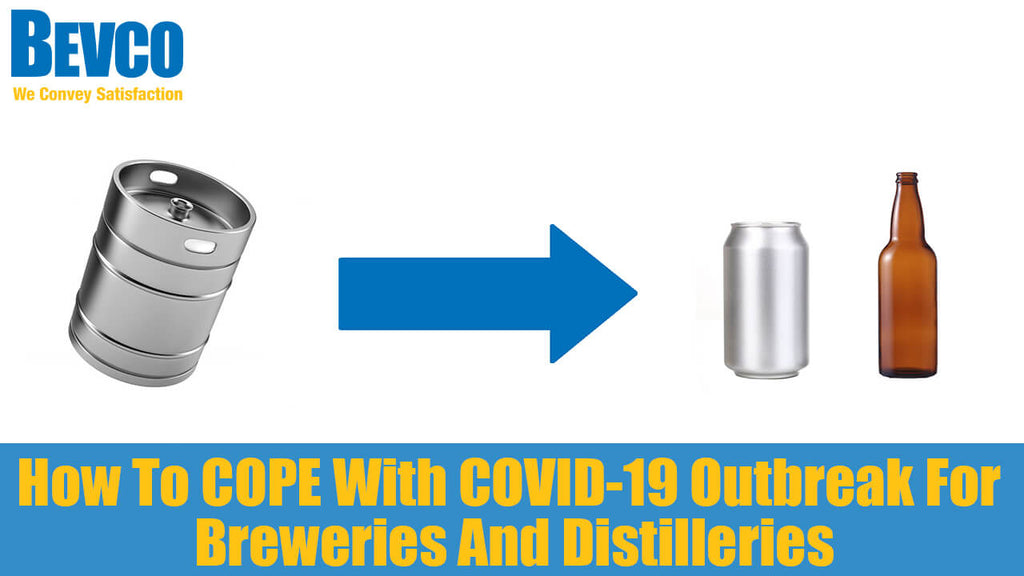 It would be an understatement to say that Covid-19 has changed the way we operate. Even though the government will slowly open up the businesses, it is difficult to deny the effect it will have on us for some time to come. In these unprecedented times, it is critical to understand the impact the regulations will have on the beverage industry and how breweries and distilleries can adapt to these changes.
These are only some changes that may affect the industry during the Covid-19 pandemic and the reasons why you may need to consider building your own canning/bottling line:
1 - Ban on any social gatherings in large scale (eg. parties, venues, etc.)
Since any large social gatherings will be banned for the unforeseeable future, draft sales will inevitably fall, and any unused kegs will pile up. Kegs generally have a short shelf life of 3 to 6 months for pasteurized beer and 6 to 8 weeks for unpasteurized beer. When the best-before dates are over, these kegs will only be taking up spaces in your cooler. On the other hand, cans and bottles are retainable with a longer shelf life of 6 to 9 months and up to 2 years if refrigerated.
2- Restaurants, bars, taprooms, and taste rooms may reopen with strict restrictions or may remain closed.
This may vary by region and the restrictions may change over time. For most businesses, on-premise sales take a big stake in the revenue. Taking a limited number of customers or not being able to take any at all would certainly hurt your business. Many breweries are now depending on can and bottle sales and have even been offering delivery service to carry on.
3 - Clamp down on refills using reusable containers
Similarly, this restriction may also vary by region. Most breweries are not refilling growlers due to concerns over indirect transmissions. Just like kegs, growlers have a relatively short shelf life (1 to 2 weeks) compared to cans and bottles. Many companies have now started to operate their canning and bottling lines at full capacity to accommodate. Even though restrictions may loosen up over time, you might want to be prepared to package your own beverages.
As you can see, it is not a matter of a choice for the breweries and distilleries to investigate an alternative business model to keep the revenue stream going. This pandemic will be going for a long haul and needs a long-term solution. Kegs will be replaced with cans and bottles as the market is shifting towards direct-to-consumer sales to accommodate social distancing.
Whether or not you are already a client at Bevco, we are here to help. You can reach us for consultations on various types of packaging solutions that will optimize your canning and bottling capacity.
The items in the list below are only a few examples of our customized fabrications:
Looking for a custom ergonomic Hand Pack Off Table in a small scale?
Looking for ideas of canning and bottling lines?
Looking to produce mixed packs, 6 packs, 4 packs, 12 packs, 18 packs 24 packs, flats, cartons, pakteks?
As a global manufacturer of conveyor and bottling equipment, we're offering our 40 years of experience to support breweries and distilleries with packaging solutions.  Whatever issues you're facing during these uncertain times, big or small, we're here to help.
Contact us today at info@bevco.net or call 1-800-663-0090.
---
comments - 0